FOTOKER
FOTOKER range
50ml tube. Medical device.
Prévention et réparation des dommages causés par le soleil (dommages actiniques). Crème dermatologique.

REPARE

SPF 50+.

UVA/UVB PROTECTION

HYDRATE
Discover our sorting instructions



La crème dermatologique FOTOKER apporte une dual preventive action to the skin. It forms a protective film on the skin and provides sun protection against UVA and UVB rays. It therefore limits the penetration of UV rays and also repairs cellular alterations caused by UV rays that have escaped this first barrier (photolyase). FOTOKER combines an enzyme, the photolyase to broad spectrum sunscreens (sunscreen 50+). Photolyase has the ability to instantly repair some of the DNA damage in our cells caused by the sun's UV rays. Its moisturizing texture and coverage ensures a pleasant application and an optimal compliance.
HOW TO PROPERLY APPLY FOTOKER DERMATOLOGICAL CREAM?
FOTOKER is a medical device recommended for the prevention of actinic keratoses. It is recommended for people who are regularly active outdoors, to prevent the appearance of damage caused by the sun.
Apply at least twice a day (in the morning around 10am and in the afternoon around 2pm) to the exposed areas (face, skull, neck, hands). In particular, when the skin is the seat of actinic keratoses, the application will be made in priority on the zones of skin touched by these.
It is important to apply it all year round (in all seasons) and not only during the summer or when the weather is sunny.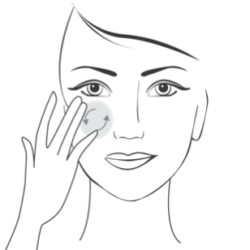 What does FOTOKER bring to the prevention of actinic keratoses?
A sunscreen, even a very broad spectrum one, is not a total screen. FOTOKER is more than just a sunscreen because it contains an enzyme that has the ability to instantly repair some of the damage caused to the DNA of skin cells. This enzyme is the photolyase. It is naturally absent in humans and present in many plant and animal species. FOTOKER combines photolyase with a broad spectrum 50+ sunscreen.
Photolyase (plankton extract)
Photolyase is an enzyme that instantly repairs UV damage to the DNA of epidermal cells. This enzyme is naturally absent in humans and present in many plant and animal species.
Sunscreen 50+ broad spectrum, without mineral screens
The broad-spectrum sunscreens provide high protection against UVA and UVB rays.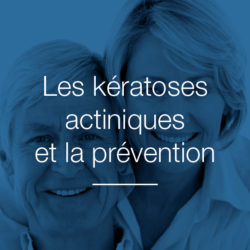 What are actinic keratoses?
It is a little known name for one of the most common skin problems!
Actinic keratoses, also known as solar keratoses, are precancerous skin lesions. They are precursors of a particular form of skin cancer. Actinic keratoses are linked to chronic or repeated exposure to the sun, whether at work (sailors, farmers, sportsmen, construction workers, etc.), or for leisure (gardening, walking in the sun, cycling, etc.). They occur mainly on exposed areas (face, bald head, nape of the neck, legs, neckline and hands).
Actinic keratoses are small chronic lesions, pink or brown, scaly or crusty, flat or slightly raised, very often rough to the touch. They are an extremely frequent reason for consultation in dermatology.
Untreated solar keratosis can either persist, disappear spontaneously, or develop into squamous cell carcinoma (skin cancer). It is estimated that an individual with more than 10 actinic keratoses has a 10% probability of developing squamous cell carcinoma within 10 years. The occurrence of actinic keratoses is directly linked to sun exposure, so prevention is essential (clothing, broad spectrum sunscreens on exposed areas).
COMPOSITIONS

/

INGREDIENTS
INCI: AQUA, METHYLENE BIS-BENZOTRIAZOLYL TETRAMETHYLBUTYLPHENOL [NANO], ETHYLHEXYL METHOXYCINNAMATE, BIS-ETHYLHEXYLOXYPHENOL METHOXYPHENYL TRIAZINE, DICAPRYLYL ETHER, OCTOCRYLENE, CETEARYL ETHYLHEXANOATE, CYCLOPENTESILOXANE, BUTYL METHOXYDIBENZOYLMETHANE, GLYCERIN, CETEARYL ALCOHOL, GLYCERYL STEARATE, PROPYLENE GLYCOL, DECYL GLUCOSIDE, TRIACONTANYL PVP, AMMONIUM ACRYLOYLDIMETHYLTAURATE/VP COPOLYMER, POTASSIUM PALMITOYL HYDROLYZED WHEAT PROTEIN, PHENETHYL ALCOHOL, CAPRYLYL GLYCOL, TOCOPHERYL ACETATE, PLANKTON EXTRACT, DIAMINOPROPIONOYL TRIPEPTIDE-33, PARFUM, CITRIC ACID, LECITHIN, XANTHAN GUM,TOCOPHEROL, ASCORBYL PALMITATE.