ACTIVE MASK
HYFAC Woman range
Box of 15 sachets. Medical device.
Traitement de l'acné de la femme adulte ciblé sur la glande sébacée. Diminue la sécrétion de sébum et les lésions rétentionnelles. Masque peel-off.

ANTI ACNE

MEDICAL DEVICE

DESINCRUSTE

MATIFY
Discover our sorting instructions



HYFAC WOMAN ACTIVE MASK is a treatment for adult female acne. It is a medical device acting locally and directly at the origin of the appearance of pimples, blackheads and microcysts. Its active ingredients act within the sebaceous gland by reducing the presence of male hormones and by promoting the self-elimination mechanism of waste within the skin cells. A clinical trial conducted on 40 women demonstrates the effectiveness of the mask against acne as well as its high tolerance.
HOW TO USE HYFAC WOMAN ACTIVE MASK?
In the evening, after cleansing and drying the skin, apply the contents of a gel sachet to the face, especially to the most affected areas. Avoid contact with the eyes and mouth. Leave on overnight and remove the mask the next morning.
The gel dries in 1 hour and is transformed into a peel-off mask. The peel-off mask allows the deep penetration of the active ingredients by occlusion. A minimum of 4 hours of application is required.
Apply the mask 3 times a week for 2 months. At the end of the treatment, it is advisable to apply one mask per week as a maintenance treatment.
One box of Active Mask contains 15 sachets of 5ml (one month of treatment). One sachet is for single use and corresponds to one application.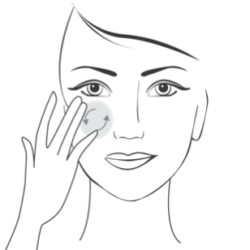 Myo-Inositol 1%
Diminue la concentration d'hormones mâles (responsables de l'apparition de l'acné de la femme) au sein de la glande sébacée. Diminue la sécrétion de sébum.
Extremosio® 4%
Favorise le mécanisme d'autophagie au niveau des kératinocytes. Les cellules digèrent leurs propres déchets, les pores sont donc moins obstrués. Diminue les lésions rétentionnelles.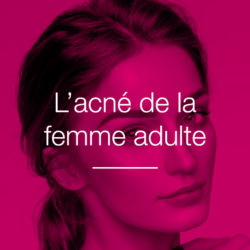 L'acné de la femme adulte est en forte augmentation ces dernières années : on estime que près de 40% des femmes de plus de 20 ans se plaignent de souffrir d'acné. Ce type d'acné particulier siège principalement sur le visage, et notamment à la base des joues et du menton. Elle peut prendre la même forme que celle de l'acné de l'adolescent, mêlant boutons inflammatoires, comédons (points noirs) et microkystes blancs du visage. L'acné est généralement très mal vécue par les femmes. La difficulté du traitement de l'acné de la femme adulte, la dépendance au maquillage pour cacher ses imperfections, le sentiment de revenir à l'adolescence, sont autant de raisons qui altèrent la qualité de vie. Une étude récente montre en particulier une altération importante de la confiance en soi chez les femmes adultes souffrant d'acné.L'application d'un masque anti-acné permet une pénétration optimale des actifs, par effet occlusif. Active Mask se présente sous forme de gel. Celui-ci, après application, sèche sur la peau en une heure, et devient un masque très facile à décoller. Il est préconisé de laisser agir le masque sur le visage durant toute la nuit. La fréquence d'application est de 3 fois par semaine pour une durée totale de traitement de 2 mois.
A published pilot study (clinical study: application of the product for 60 days on 40 patients) shows a significant improvement in inflammatory pimples, blackheads and microcysts on the face after two months of use.
COMPOSITIONS

/

INGREDIENTS
INCI : POLYVINYL ALCOHOL (PVA), PROPANEDIOL, RHAMNOSE, GLUCOSE, GLUCURONIC ACID, LIPOSOMES WITH TREHALOSE, MYO-INOSITOL, ETHYLIC ALCOHOL, VEGETAL GLYCERIN, XANTHAN GUM, CITRIC ACID, SILVER, DEHYDROACETATE SODIUM, CHLORPHENESIN, WATER.