#MASKNE: HOW TO FIGHT AGAINST PIMPLES CAUSED BY WEARING A MASK?
For the past few months, the prolonged wearing of the COVID-19 protection mask has caused pimples to blossom on the lower face (nose, cheeks, chin). Oily skin with a tendency to acne is the most affected, with an increase in the frequency and intensity of acne on the lower face. But not only! We are all more or less concerned, even those who have never had acne before. This skin phenomenon, the mascne or maskne (contraction of mask and acne) is a side effect that we could have done without. Behind the masks, a real pimple war is being waged...
Why does the mask give you pimples?
The mask forms an occlusive barrier on the skin that prevents the passage of viruses, but also impedes air circulation. This small piece of fabric increases local heat and creates a warm, moist environment that bacteria love. In addition to this, the rubbing of the mask on the skin attacks the skin barrier.
Aggressed, irritated, suffocated, our skin capitulates. Bacteria proliferate, perspiration and sebum are not evacuated: pimples and blackheads settle in and multiply.
What products should I use to control #maskne?
Of course, maskne is not a reason to relax protective measures and drop the masks, but it is another reason to take care of your skin with products adapted to the situation! At HYFAC, we have THE solution to maskne with a custom-made routine: cleanse, moisturize and protect your skin.
1. Deep cleansing is necessary, but not with just any product. A gentle cleanser that doesn't irritate or dry out the skin, formulated with antibacterial ingredients, will be your best ally. Gel, bread, foamdiscover our range of anti-blemish cleansing products adapted to your skin to fight against bacterial proliferation.
2. In the evening, on clean skin, the application of a moisturizing and anti-blemish cream is essential to maintain your skin and limit the appearance of pimples. Your daily skin care product should be moisturizing to soothe and repair the skin. It should also contain anti-blemish ingredients, such as fruit acids (AHAs) that exfoliate, clear and fight inflammatory pimples and blackheads. HYFAC Global Care is a bathroom essential. It guarantees a 4-in-1 effect: it fights inflammatory pimples and blackheads, matifies and moisturizes.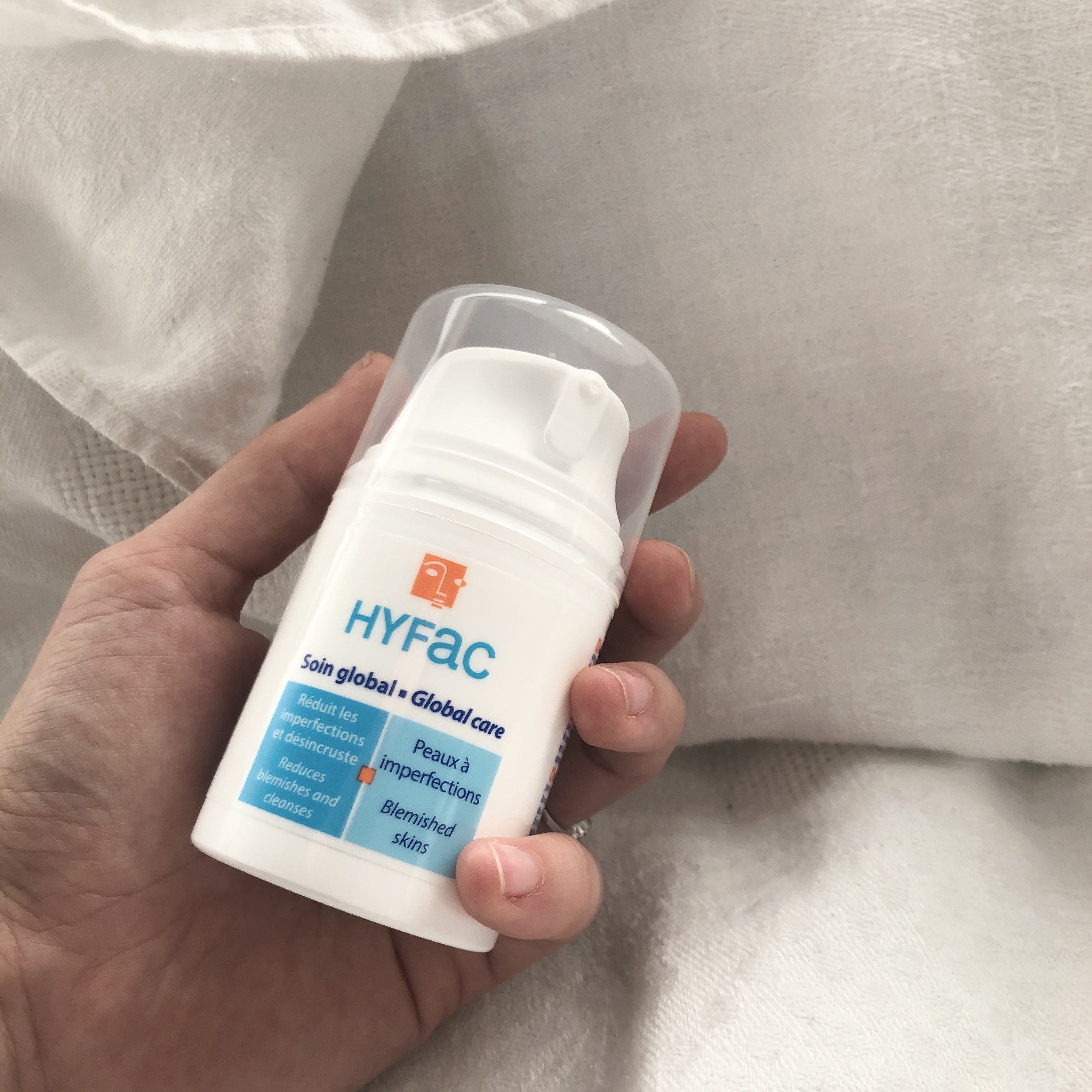 3. Your skin is in great demand throughout the day and will be subjected to a variety of aggressions (mask, cold, wind, pollution, irritation, etc.). So every morning, before putting on your best mask, remember to moisturize it with a rich moisturizing cream or slight according to your skin type. Well-hydrated skin is healthy skin!
Care such as scrubspreferably gentle so as not to further damage the skin, or purifying masks can also be done once or twice a week to pamper your skin and bring it some comfort (it really needs it!).
Take care of yourself and say goodbye to pimples!